The CIDER 2023 summer program is funded by the NSF GeoPRISMS program to explore the causes and consequences of fluid and magma transport at plate boundaries. Lectures and tutorials are organized around three research themes: (1) role of aqueous fluid on fault interfaces at subduction zones and ridges; (2) magma production rates and tectonic interactions at subduction zones and ridges; (3) magma transport from the source to the crust. The goal is to synthesize past scientific results and to look forward to future research initiatives.
CIDER's collaborative and interdisciplinary nature provides an ideal venue to introduce students and postdocs to exciting research challenges in the study of plate boundary processes. The Program brings together scientists at all stages of their careers and from across all disciplines to identify important research questions that can be advanced through interdisciplinary collaboration.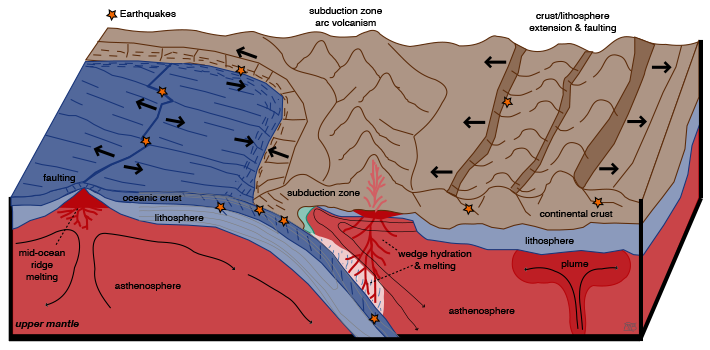 Illustration: Magali Billen
Like previous CIDER summer programs, the four-week program (June 19-July 14) is open to advanced graduate students and post-docs, as well as senior participants. The first two weeks are devoted to lectures and tutorials. The second two weeks are used to initiate collaborative group research projects.
Support:
Travel and on-site expenses are provided to those senior participants that stay for two weeks or longer and to grad students/post-docs that commit for the 4 weeks of the lecture tutorial program. We cannot provide support for travel from outside of the US. However, on-site support for foreign participants (senior or junior) accepted to the program is provided.
Location:
This summer program will be held on the campus of the University of California, Berkeley.
CIDER Leadership
Bruce Buffett           UC Berkeley, CIDER PI

Rachel Kowalik       UC Berkeley, CIDER Event Planner
Organizers
Magali

Billen           

University of California, Davis

Jeff

Freymueller     

Michigan State University

Greg

Hirth               

Brown University

Terry

Plank              

Columbia University

Jessica

Warren       

University of Delaware
Confirmed Lecturers
Geoff

Abers             

Cornell University

Alexis

Ault                

Utah State University

Roland Bürgmann    UC Berkeley

Eric Dunham            Stanford University

Tobias Fischer          University of New Mexico

Donald

Fisher          

Penn State University

Matt Gleeson           UC Berkeley

Tarsilo

Girona          

Univ of Alaska, Fairbanks

Mong-Han Huang    University of Maryland

Richard Katz            Oxford

Katherine

Kelley      

Univ of Rhode Island

Kathryn Materna      USGS

Michelle

Muth          

Smithsonian Institution

Samer

Naif              

Georgia Tech

John

Naliboff           

New Mexico Tech

Ayla

Pamukcu         

Stanford University

Matej

Pec                

 

MIT

Diana

Roman          

Carnegie Institution for Science

Joyce Shi

Sim

         

Georgia Tech

Tom Sisson             USGS

Penny Wieser         UC Berkeley